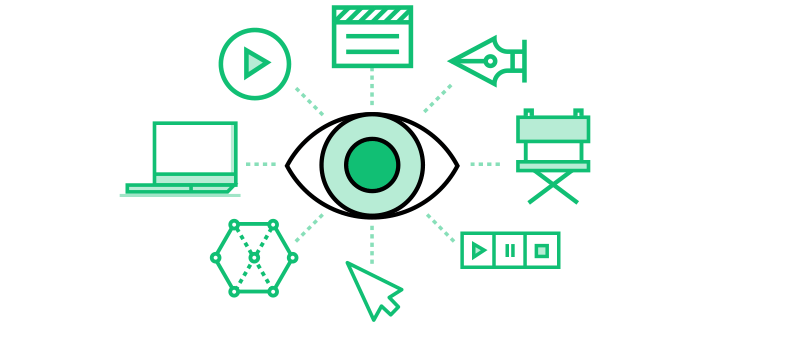 The CG Supervisor is the person responsible for all 3D content on a production and sits above all the different 3D departments. It is their responsibility to interpret and implement the creative aims of the Director and VFX Supervisors within schedule and budget. 3D work can get complex and the CG Supervisor will need to be very comfortable with both the artistic and technical needs of CG production. They answer to the VFX Supervisor, and work in close collaboration with the 2D Supervisor to ensure that 2D has all the 3D requirements to composite the final shot.
In Collaboration with the CG/VFX Supervisor, Production Designer, Art Director, will interpret script, helping to define Director's vision.
Scope all 3D related tasks. In collaboration with the VFX Supervisor and Production will contribute to the bidding and crewing process.
Will oversee the quality of all work from 3D related disciplines. Works closely with the 2D
Supervisor to ensure that Compositing has all necessary requirements to final shots.
Reporting progress can address comments/issues clearly to VFX Supervisors/Clients. Can reduce complex problems to simple solutions
In collaboration with Pipeline/IT, is responsible for defining a strong yet flexible show pipeline for 3D disciplines.
Proven history of collaborating with R&D teams, and the ability to provide, test and deploy new tool specifications in a production environment
They are responsible for quality control, aesthetic consistency, and technical standards across departments.
Review all Client notes, lead production meeting and dailies.
Ensures that all 3D Assets adhere to pipeline constraints.
Responsible for show wide pipeline and workflow, mentoring, documentation and information disemination.
Will be actively involved in the recruitment process in collaboration with HR.
Monitors show resources work with the VFX Producer to ensure that crewing and delivery timetables are met.
Is this role right for me?
---
To succeed at this job, you need:
---
Several years' production experience in a Supervision role: you have full knowledge of the VFX pipeline and an in-depth understanding of the latest industry best practice.
---
You can scope and direct the technical effort. You can foresee potential bottlenecks and eliminate technical constraints to achieve the artistic goals.
---
Experience with pipeline management, data management and asset tracking software.
---
You are a leader with strong motivation and communication skills.
---
To be an organised multitasker. You can keep a birds eye view across all the departments to ensure that the 3D effort is achieving the artistic goals and staying on schedule
---
You can diplomatically sell creative solutions to VFX Supervisors and Clients.
---
Excellent aesthetic judgement.
---
Empathetic to the Director's vision, you can give concise and constructive feedback to 3D crew.
---
Great organisational skills and ability to manage a very busy team, while meeting production timetables and budgets.
---
Works with
2D Supervisor
VFX Supervisor
Line Producer
VFX Producer
Production Designer
Art Director
Director
Career Path to CG Supervisor
Career Path to CG Supervisor: Several years experience in supervisory role.
Career Path from CG Supervisor: VFX Supervisor
Education Routes: CG Supervisor will often have a degree in Computer Science, Animation, or Visual Effects. This role requires a lot of production experience across the entire VFX pipeline.
This is not an entry-level role proven management experience at senior levels is important.