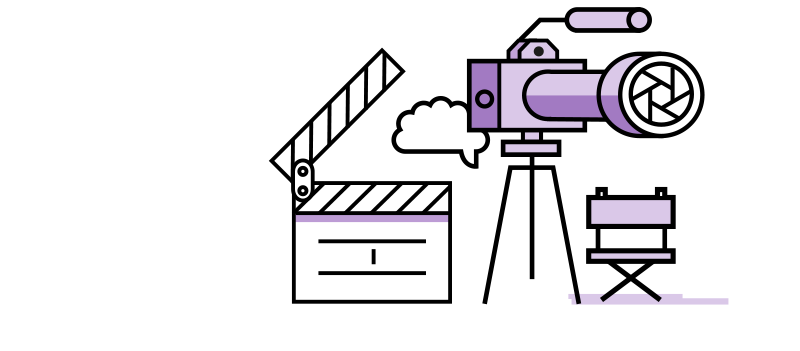 The Director is the chief storyteller – the person who must propose and deliver a coherent visual narrative and creative framework through which to take a concept/script and deliver it as a compelling and effective piece of television.
The Director is responsibe for the quality of everything the audience experiences, from the stucture, style, and narrative tone to the sound track of a programme.  Within this, the effectiveness of contributions by interviewees and the performance of cast members and talent fall to the Director to make as impactful as possible.
The Director will often have a major say in the choice of those who will make up the main creative team: Presenter, Writer, Assistant/Line-Producers, and Editor.
The Director will be heavily involved at the pre-production stage, and will usually be part of any presentations to the Broadcaster.
The role of Producer/Director (PD) is becoming more common as budgets are squeezed and Production Companies are forced to economise.  As the name suggests, this role combines the key tasks of both Producer and Director.
The Director is contracted from pre-production through to post-production and final delivery of the finished programme(s).
Is this role right for me?
---
To perform this role, you must:
---
Have the creative, narrative, and visual storytelling skills to deliver a complete and high-quality TV programme, and leading a large team of creative and technical talent.
---
Be a first-class and persuasive communicator and motivator.
---
Be entirely proficient in the category of programme in which you are engaged – documentary, news, entertainment – and have the knowledge and experience to make all major creative decisions.
---
Be familiar with all elements of the pre-production, production and post-production processes, and be capable of making the correct creative and technical decisions in each.
---
Know what each member of a creative production team does and be able to motivate and manage their performance.
---
Be very familiar with the budgets and resources available for a programme and know how best to maximise the impact of all inputs.
---
Understand all laws and best practice in relation to a production crew's Health and Safety.
---
Works with: 
Executive Producer
Producer
Broadcaster
Sponsors/Financers/Advertising and PR Agencies
Writer
Editor
Sound Post-Production
Talent/Cast
Career Path to Director:
Directors follow varied paths to the role.  Some have been Editors, Producers, and Writers.  In the case of Factual and Current Affairs, many Directors will have been Journalists.  Possible study routes include Media and Film Studies, or broader Humanities.