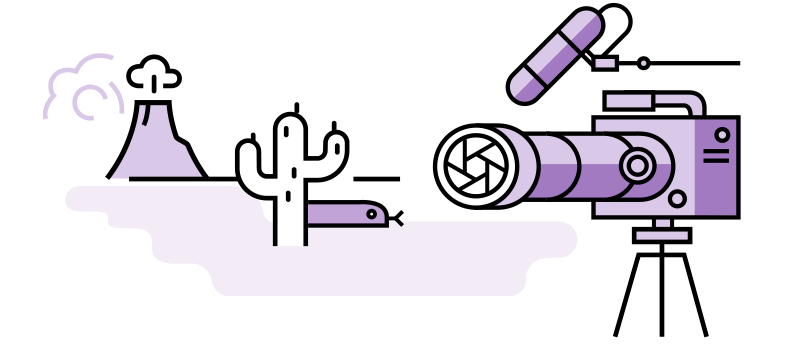 The Lighting Camera Operator for the portable single camera shoot leads the Camera Team and is responsible for realising the Director's creative vision for the programme. First and foremost, he or she has the creative and technical camera and lighting skills to deliver the highest standard of rushes that comply in every way with the agreed narrative and aesthetic.  On larger productions, and in TV drama, this would be equivalent to the Director of Photography.
The Lighting Camera Operator's involvement starts before the shoot, and requires having closely read the script, and completing any recces necessary for any locations, including studios.  This allows the selection of camera set-up positions, and creation of a comprehensive list of lights and equipment (tracks, dolly etc.) needed for the shoot.
The role also occasionally covers that of Crane Operator where required.  Cranes (or jibs)  are mechanical devices that allow cameras to create wide, sweeping movements, and to move above performers on a stage, for example.
As projects are almost exclusively shot with cameras that record footage on to media cards, the role also involves coordination of the handover of media cards to the Data Wrangler (on bigger projects or series), or Production Assistant.
The role is by its nature location-based, requires a full driving licence, and usually requires the Operator to have his or her own car.
Is this role right for me?
---
To perform this role, you must:
---
Be an experienced and highly skilled camera operator, capable of collaborating closely with the Director to deliver the creative vision for the programme.
---
Have a deep technical knowledge of operating broadcast cameras and all relevant technical ancillary equipment.
---
Have excellent skills working with colour.
---
Fully understand the process through which a script is filmed – shot-by-shot, sequence-by-sequence – and brought to the screen.
---
Be familiar with all equipment and lights necessary for filming on both location and in studio, and know who the best suppliers are for each category of equipment.
---
Have the interpersonal and communication skills to manage a camera team and all other crew that work closely with the camera team on shoots.
---
Have the interpersonal skills to help the Director get the best performance from any talent.
---
Be capable of working long days, sometimes in locations that are "inhospitable", and when necessary, being on the road for several weeks at a time.
---
Be fully conversant with all aspects of sound-recording.
---
Have an extensive contact-base of free-lance camera and related roles, as well as rental companies of all ancillary equipment.
---
Have full knowledge of all health and safety regulations and safe practice relating to filming.
---
Works with: 
Director
Producer
Camera Team
Line Producer
All location and studio production crew
Talent/Cast
Career Path to Production Manager:
While the Lighting Camera Operator may have come through Film School or Media Studies, many of the most successful senior operators will have "graduated" by way of unofficial, on-the-job apprenticeships, and will have worked their way up from Camera Runner, Sound Recordist and Assistant Camera Operator.