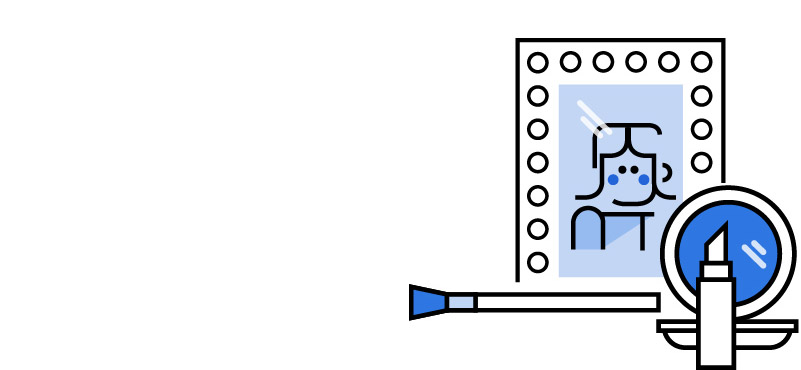 The Make-up Artist/Designer is a key creative figure on a film/TV production, applying cosmetics effectively while also contributing to the look of a film, bringing the period and its characters to life. They are responsible for researching the period and story and creating a look relevant to the characters and production. In pre-production, they must liaise with the director to understand the creative vision for the characters and collaborate with the costume and hair departments to deliver a complete look and test looks and products on actors. They must make up several actors daily in accordance with the director's vision to a busy production schedule. They may need to work with prosthetics and special effects make up. They are responsible for stocking the make-up truck, ordering supplies, managing the budget, planning staffing levels and facilities to budget and schedule.
Is this role right for me?
---
For this role, you will need:
---
Ability to research how people lived in different circumstances/periods and how this would affect their appearance.
---
A great eye for both period and contemporary looks.
---
An ability to understand the director's creative vision for a project and communicating this to the make-up team in practical terms.
---
Knowledge of and experience in working with prosthetics and special-effects make-up.
---
Strong organizational skills, the ability to manage staff and ensure they are ready according to busy production schedules.
---
Great interpersonal and communication skills.
---
Strong administrative and budget management skills.
---
Work with:
Director
DOP
SFX Artists
Art Director
Costume Designer
Costume Supervisor
Hair Designer
Actors
Career Path to Make-Up Designer:
There are no usual career paths for the Make-Up Designer, often they would have worked their way through the Make-Up Department starting as a trainee. A Qualification in make-up design is beneficial.
Designer
Design
Artist
Makeup
Make-up