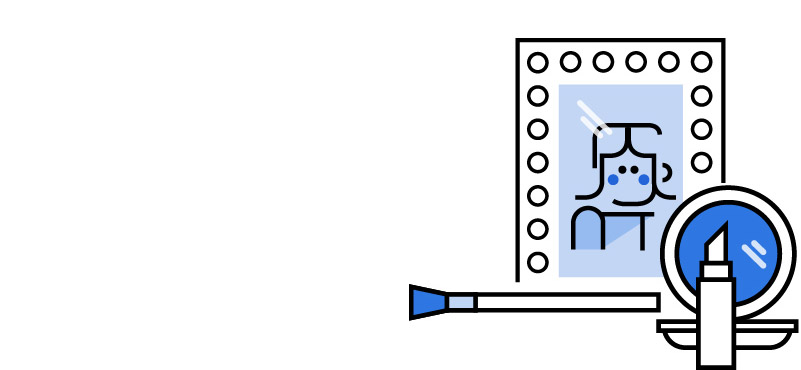 The Make-up Trainee works under the direction of the make-up assistant and the make-up artist to carry out various tasks. Through their training they have the opportunity to enter the film industry and learn within this creative environment. They are responsible for setting up and maintaining make-up work stations and learning on the job through observing and assisting more senior members of the department. They must apply make-up for crowd scenes. They must assist with actor's make-up if necessary. They learn how to read and break down a script, understand continuity, and how a film set operates and the various etiquettes involved. They must undertake administrative duties such as carrying out purchase orders, maintaining stock and shopping for supplies.
Is this role right for me?
---
For this role, you will need:
---
A basic knowledge of make-up products, styling and techniques such as dirtying down and facial hair.
---
An ability to take direction, an interest in how the department operates and ability to learn on the job.
---
Strong organizational skills and ability to keep workstations tidy and well-stocked.
---
Being attentive on set – assisting as work is being done.
---
Great communication and interpersonal skills and the ability to work effectively as part of a team and with actors.
---
Ability to work calmly and efficiently under pressure to meet deadlines and schedules.
---
Work with:
Make-up Assistant
Actors
Extras
Career Path to Make-up Trainee:
This is an entry level role. Prior experience in salons or amateur productions can be beneficial. Building a portfolio of work is important.
Trainee
Hair
Makeup
Make-up