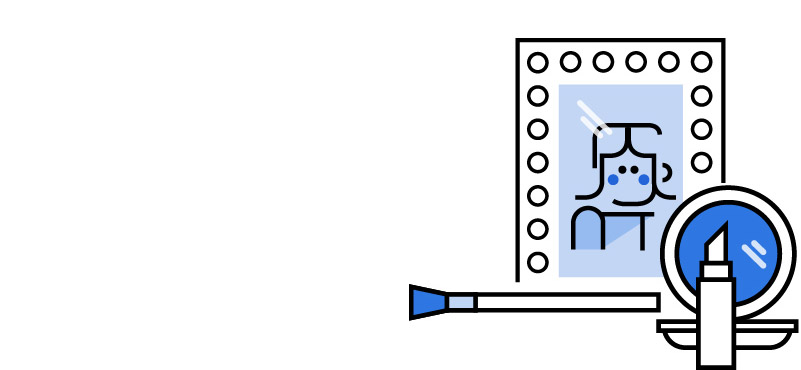 The Prosthetics Artist is a specialist role in the make-up department, they are responsible for designing, creating and making prosthetics special effects make-up. They must break down the script to visualise what prosthetics are required for various characters and scenes in collaboration with the make-up designer. They must work from detailed designs and drawings or more abstract ideas and interpret how to achieve the required look in practice. They are responsible for mould-making, casting, applying and removing prosthetics, and working with common materials such as latex and silicone. They must be proficient in practices such as including face and body ageing, making bald caps and creating wounds or scars.
Is this role right for me?
---
For this role, you will need:
---
A vivid imagination and the ability to create and problem solve in unique ways with the required technical skills and experience also.
---
Experience and relevant qualifications in working with make-up, and prosthetics. Great make-up application skills.
---
Great design and interpretive skills, an ability to understand the prosthetics requirements for a project, and ability to realise this in both practical and imaginative ways.
---
Experienced in working with materials such as foam, latex and silicone, and processes such as mould-making and casting. Be able to create common prosthetics requirements like tattoos, false noses, wounds and scars.
---
Ability to work effectively under pressure and to deadline.
---
Ability to take and understand direction.
---
Work with:
Director
Art Director
DOP
SFX Artists
Costume Designer
Costume Supervisor
Hair Designer
Make-up Director
Actors
Career Path to Prosthetics Artist:
There are no usual career paths for the Prosthetics Artist, often they will have worked their way through the make-up department. Qualifications in special effects make-up is useful, although many prosthetics artists will learn the skill on the job. It is important to have a portfolio of work.
Artist
Hair
Makeup
Make-up
Prosthetics