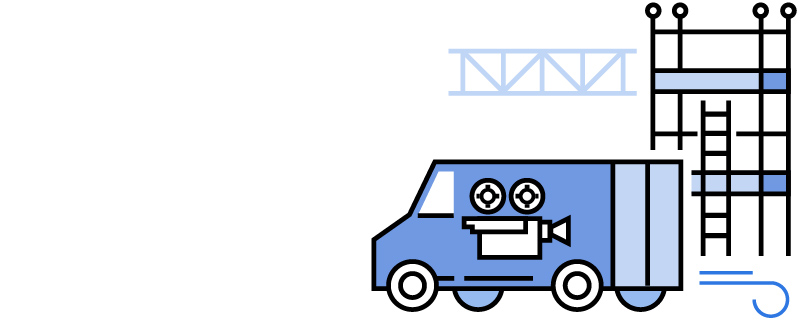 The Rigging Supervisor oversees the rigging team, with responsibility for the mechanics of all support rigging, for example scaffolding, ropes, pulleys and lifting equipment. They work with the construction managers and set designers to establish and develop what types of rigging are needed for various sets, locations and scenes. They are responsible for installing lifting and suspension equipment, such as wire and fiber ropes, winches, pulley blocks, chains and slings as well as building and dismantling access and support scaffolding, and positioning and removing specialized ladder equipment in order to access the rig. They must read and interpret technical and digital drawings, calculating the stresses and loads of equipment on various structures. They must assess the quantities of stock and numbers of crew needed to carry out the different builds before building begins. They must ensure there are enough materials in stock to ensure a smooth workflow according to the production's required schedule. They must ensure the safety of crew and cast.
Is this role right for me?
---
For this role, you will need:
---
Wide knowledge of and experience in rigging products and techniques, including the latest innovations.
---
Great leadership and interpersonal skills in the management of rigging work and crew on time and within budget. Good communication with team, so they can complete their tasks effectively.
---
Excellent health and safety knowledge and awareness, including risk assessment.
---
Ability to identify and amend inefficiencies to structures and relay this to team.
---
Ability to work at heights and in all weather conditions.
---
Up-to-date MEWP license to operate heavy lifting equipment such as boom and scissors lifts.
---
Work with:
Director
Production Designer
Art Department
Master Painter
Master Carpenter
All of the Construction Team
Career Path to Rigging Supervisor:
There are no usual career paths for the Rigging Supervisor, often they would have worked their way through the rigging and construction department. An Advanced scaffold on set rigging qualification is essential with and up to date MEWP license. Health and Safety qualifications are beneficial. Several years of onset experience is essential.